Rubber Hose Pipe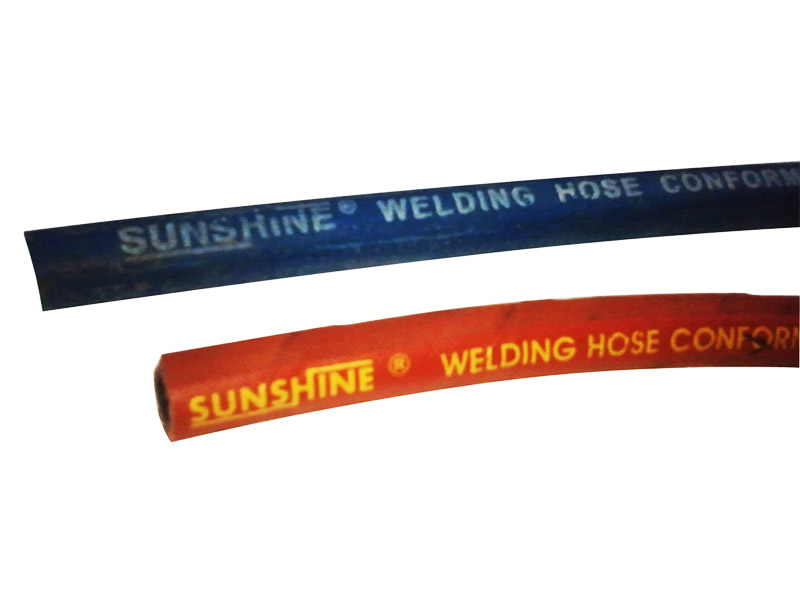 When Welding, heating & cutting operations are done with oxygen and acetylene flame, the gases are carried to the required equipment from different gas storage and cylinders with the help of rubber hose. The hose used should be light in weight and consistent with strength and durability and it must be nonporous to prevent loss of valuable gases.
Sunshine hoses embody the very best in engineering. These are carefully made of laboratory tested materials for the kind of ruggedness that keep it on the job longer and save your money.
SALIENT FEATURES
The delivery pressure of our hose is remarkably stable inspite of changes in flow rate temperature and other conditions. They are rugged in design and are very safe both of which are important aspects for superior performance.
Welding hose is made strictly as per IS : 447-1988. All operations are inspected frequently during every stage of manufacturing. Finished product is carefully tested to make sure that meet the specification for bursting pressure, tensile strength, elongation, adhesion strength test etc.
This kind of quality control assures you that hose you buy will be of the most superior quality.
CAUTION
It is hazardous to interchange acetylene hose or use other types of welding hose for LPG. LPG being Liquefied Petroleum Gas has corrosive action which dissolves interior of lining & this mixture would retard flame temperature and produce inferior cut. Also in extreme cases it could lead to explosion & serious fire. A special LPG hose with synthetic lining is recommended & can be supplied on request.
Enquiry Now